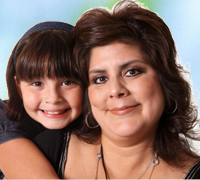 The loss of a job, the death of a spouse or a child or a severe physical disability can lead to despair and too frequently homelessness.
How Family Promise of Lake Houston Works
During the day, families come to their "home base" which is our Life Skills Center, where they complete weekly goals, Life Skills Classes, Budgeting, Parenting, and GED Fast Track Certification. They access community resources to search for job training and affordable housing. The key to their success is the fact that every family is connected to the community through volunteers at the congregations as well as through mentors in our Family Mentoring Program. Families are able to build a new community network that helps them achieve their goals of independence.
Families wishing to participate in our program are encouraged to contact the Life Skills Center Monday through Friday at 281-441-3754 to make an appointment for an intake interview. Our families agree to participate fully in a self-sufficiency program and adhere to all of our program guidelines and rules during their stay in the Network. Family Promise of Lake Houston is a sober program and requires all participants to agree to random drug testing as a condition of acceptance into FPLH.
We accept referrals from all organizations and locally we work in partnership with HAAM, Family Time, 211 Texas as well as the Humble ISD advocates
.